Rent the Lenovo ThinkPad T400 Laptop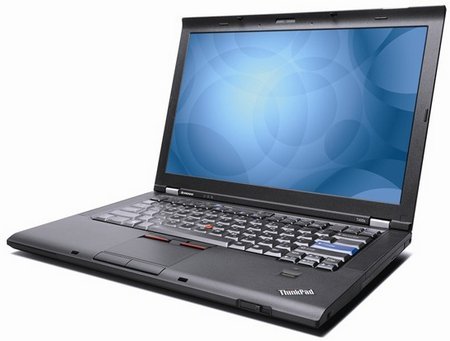 When your employees go on site for training, tradeshows and conferences, you want to supply them with a capable laptop for optimum work efficiency—without breaking the bank. If you want all of the functionality of the core necessities in a productive work laptop without all of the bells and whistles, consider renting the Lenovo ThinkPad T400 Laptop.
Expect high performance with Intel Core 2 Duo processor with Active Management Technology (iAMT)—providing enhanced notebook management and security. With and LED backlit display, this workhorse is energy efficient with a long-lasting battery. All of Lenovo's T series models are wireless WAN (WWAN) ready, with further support for WiMAX.
The Lenovo ThinkPad T400 Laptop Specifications
Display size: 14.1 inches
Maximum resolution: 1440 x 900
Processor class: Intel Core 2 Duo T9400
Processor speed: 2530 MHz
Graphics Memory: 256 MB
Installed memory: 2 GB
Dimensions:
Weight (with accessories): 6.5 lbs
Width: 13.2 inches
Depth: 10.9 inches
Height: 1.5 inches
Rent from Vernon Computer Source
At Vernon Computer Source, we have the largest laptop rental fleet in the world from top brands like Lenovo, Dell, Sony, HP and Apple. We provide businesses with laptops for various exhibitions as a service to event planners, trains and managers from pharmaceuticals to insurance companies.
To learn more about the available laptops for rent, like the Lenovo ThinkPad T400, call us at 800-827-0352 or fill out a FlexQuote and one of our sales representatives will contact you within the hour.