Rent the Lenovo ThinkPad Edge E220s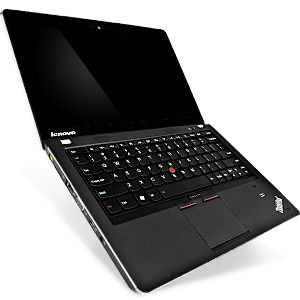 Looking for a slim, lightweight laptop to arm your employees for an upcoming project? We've got plenty to offer in our laptop rental fleet, but the Lenovo ThinkPad Edge E220s may be exactly what you're looking for. Often referred to as an "ultra-portable" laptop, this Thinkpad weighs just over 3.2 pounds and is less than 1 inch thick.
With a 12.5 inch, glossy infinity glass display and full size, backlit keyboard, you can use the laptop more comfortably than a NetBook, but still fit the PC compactly into your bag. The keyboard is further spill resistant and is comprised of curved keys that allow you to type with fewer errors. You'll also find the TrackPoint like on all Lenovo laptops, ideal for when in a cramped space like an airplane that decreases the need to invade the elbow rooms of your neighbor while browsing on the very convenient ClickPad.
Lenovo ThinkPad Edge E200s Specifications
Intel Core 1.4 GHz i5 processor
4GB RAM
12.-inch HD LED display
HD camera
WiFi support
Seven-hour battery life
3.2 pounds, less than 1 inch thick
Rent from Vernon Computer Source
Vernon Computer Source provides businesses around the world with the latest laptop technology from top-tiered manufacturers like Lenovo—a favorite among corporate customers. With distribution centers located across the country and affiliates across the globe, Vernon can offer your business competitive rates and a product fully-configured to your specifications.
To learn more about our laptop rental offerings, contact us at 1-800-827-0352 or fill out a FlexQuote and one of our sales representatives will contact you shortly.