Lenovo IdeaPad Yoga 2 Pro ultrabook laptop rental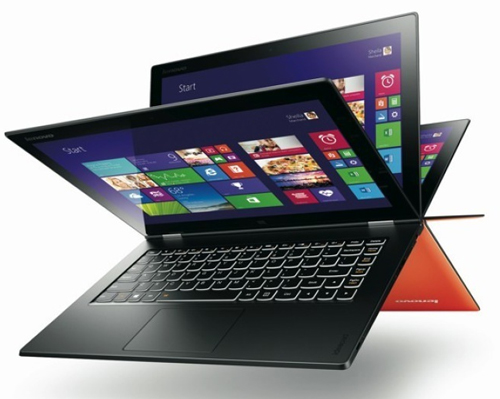 Following in the footsteps of its ancestor (the highly successful Yoga), the Lenovo IdeaPad Yoga 2 joins the Vernon Computer Source family as a new high end, high powered ultrabook. Early reviews for the Yoga 2 have praised the device's impressive battery life, versatility, and excellent response time, making it a popular notebook rental choice for business professionals.
Why rent the Yoga 2 ultrabook from Vernon Computer Source?
The Yoga 2 is an addition to Lenovo's family of convertible ultrabooks and can be used in four ways: laptop mode, tablet mode, tent mode and stand mode. As a flexible, lightweight notebook alternative, the Yoga 2 is an excellent rental for businessmen and women who travel frequently. The Yoga's backlit keyboard makes it the perfect companion for overnight flights and working in low light conditions.
Lenovo IdeaPad Yoga 2 Specifications
Multimode ultrabook
4 modes – laptop, tablet, tent, stand
Up to 9 hours of battery life
Custom software that is compatible with each mode
Starting at 3.1 lbs
SSD provides fast read/write speeds
Backlit keyboard perfect for working in low-light conditions
Vernon Computer Source offers free rental quotes on our selection of Yoga 2 ultrabooks! Simply fill out our short rental quote form or contact a rental expert directly at 1-800-827-0352 to find out how to outfit your team with the Lenovo IdeaPad Yoga 2.