Rent a Dell Latitude E6500 Laptop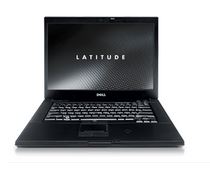 Dell manufactures a wide range of laptops – but its E6500 model really performs well and above industry standards.
The E6500 offers a wide-range of connectivity options, and thanks to the company's patented "ControlPoint Connection Manager," connectivity is almost guaranteed to be without interruption – even for the business person on the go.
Security is not often a subject touched on when it comes to renting a laptop, but the Dell E6500 certainly has that base covered. By utilizing a multifactor authentication system that relies on a contactless smart card reader, security gets a boost. A solid-state drive, optimized credential management and a built-in data recovery service also offer a certain safety net.
Dell Latitude E6500 Laptop Specs
Intel Processor: Intel 45 Express Chipset
Video Card: NVIDIA Quadro NVS or Intel's Graphics Media Accelerator
Security: Internal authentication, credential management and data recovery systems.
Pretty as Well as Powerful: Thanks to distinctive, magnesium alloy construction.
Connectivity Options: WiFi , mobile broadband2,
Bluetooth2.1, WiMAX and High Performance Wireless-N.
Rent a Latitude E6500 Laptop from Vernon Computer Source
With a global footprint and offices all over the world, Vernon Computer Source is a leading source of IT rentals for event planners, IT directors and corporate vendor managers – no matter where they are located.
We're known for our customer service and love to be of assistance; we offer next-day delivery, on-site installation and removal and cater to our clients every need.
Give us a call or visit our website and let us show you how accommodating our laptop rental program can be.