Rent a Dell Latitude E5510 Laptop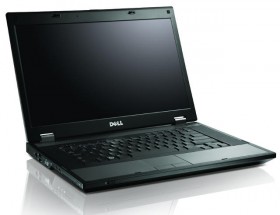 As far as laptop rentals go, Dell makes a pretty solid notebook. The Latitude E5510 is no exception. With a new, streamlined design, Dell's E5510 is dependable, long-lasting, and capable of simplifying productivity.
Marketed as having both strength and sophistication, we can certainly stand behind this design. Crafted with a thin, reinforced LED display and outfitted with critical data protection tools, the E5510 comes with a variety of security and system management tools.
Need a laptop that works? The Dell Latitude E5510 is certainly an option worth considering.

Our Dell E5510 Laptop Rental Specifications
DDR3 1333 Mhz SDRAM
Intel HD graphics
14.1″ WXGA anti-glare LED screen
Many ports, such as USB, RJ-11, IEEE, ExpressCard, Smartcard, PCMCIA, VGA and more
Multiple connectivity options such as Ethernet, WiFi, WiMax
Rent a Dell Latitude E5510 Laptop from Vernon Computer Source
The Dell Latitude E5510 is a great enterprise-class laptop suitable for the needs of our business clientele. With all of the features expected of today's notebook, it has all of the earmarks normally associated with its manufacturer.
We are happy to stock a great number of these laptops, and have the ability to ship them next-day – internationally.
Yes. Internationally. We're located all over the globe – from Seattle, to Stamford, to Raleigh, to Toronto, London and beyond. Just fill out a hassle-free FlexQuote, and we'll get right back to you.