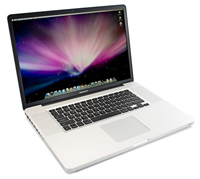 With multiple Apple desktop, laptop and tablet options available to rent, Vernon Computer Source continues to supply the 17-inch MacBook Pro for those users who seek the benefits of Apple laptop computing and prefer a larger screen.
When Apple decided to stop manufacturing the 17-inch laptops, it upset MacBook Pro users throughout the country. However, Vernon continues to provide these large screen models in excellent, like-new condition.
Prefer working with more space on your screen? No worries here, the 17-inch MacBook Pro is still available here at Vernon. 
17-inch MacBook Pro Specs
Processor and Memory: Intel Core 2 Duo 2.93GHz / 4GB
Storage: 320GB, DVDRW
Display: 17-inch, 1680 x 1050 reolution
Weight: 6.8 lbs
Dimensions (H x W x D): 1.0 x 15.4 x 10.4 inches
Rent MacBook Pro Laptops from Vernon Computer Source
As a part of the largest IT and AV rental organization in the world, Vernon Computer Source provides Apple laptop rentals to businesses and institutions throughout North America, while its international affiliates take the services overseas into Europe and Asia. Whether it is for an business event, or a classroom, Vernon provides bulk Apple laptop rentals for needs both big and small.
To learn more about these rental services, simply fill out a request to have a representative provide you with a quote within the hour. You can also call 800-827-0352 to speak with an associate now.