iPad Air 2 Rentals | iPad Rentals
For fans of Apple's super thin tablet, the iPad Air, the addition of the iPad Air 2 is truly exciting. The new model is 18% thinner than the original iPad Air, making the second generation easier than ever to carry, hold, and transport. Looking to add the latest iPad to your business? Vernon offers the latest iPad Air 2 rentals, delivered to your specifications, for all corporate needs!
iPad Air 2 rental features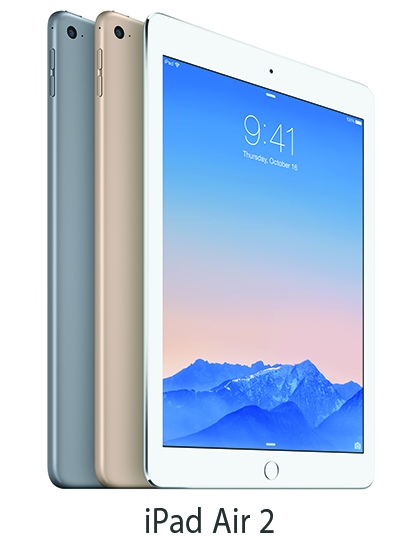 When you rent the iPad Air 2 for your business, you get the most bang for your buck. Ordering in bulk? We'll send extra iPads (10% of your original order) so that you can have back-ups in case anything goes wrong, all as part of your rental agreement. What more do you get when you rent the iPad Air 2? Here are some of its impressive specifications:
Upgraded anti-reflective HD display
Apple's new and improved retina display is thinner than ever, combining three layers into one and removing the thin layer of air in the display completely. With an added anti-reflective coating and incredible color depth, the result is akin to a digital magazine making it easy to use inside or outside.
Latest operating system
The most advanced OS from Apple yet, the iPad Air 2 comes with iOS 8 or 8.1 installed. When you place your order for the latest iPad model, you can have peace of mind knowing that your business will have the most current operating software for optimal performance.
Fastest iPad rentals to date
The iPad Air 2 comes with the same processors as the iPhone 6 models, the Apple A8 chip and M8 motion coprocessor. Faster and lighter than ever, the newest generation iPad gives your business the productivity value you need for the low weekly rates our customers love.
Request a quote to rent the latest iPad models! 
Vernon Computer Source 800-827-0352.