Interactive Audience Response with iPad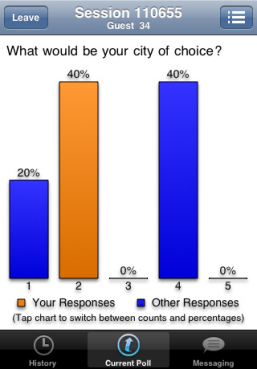 Don't let the next presenter at your company event speak to a crowd of detached listeners. With Audience Response Software (ARS), your speaker can actively engage audience members with interactive polling and instantaneous results.
Whether your goal is to gauge the opinion of a particular group, or test the knowledge of your employees; ARS technology can bump up the information retention—and ultimate success of your event—to the next level.
So what is the tool to connect your audience with the presenter? None other than the top-of-the-line tablet technology of the Apple's iPad. Audience members need only log in and they are instantly synced with your speaker's presentation – ready to vote, answer test questions, and view the results in the 9.7 inch display of their tablet weighing just over a pound.
Features of iPad Audience Response Software
Easy to Setup: Your presenter will find the setup of this software simple and straightforward. Easily syncing with Microsoft Office, any user familiar with PowerPoint can fly through this app in a breeze. The presenter has the freedom to manage the timing of responses, and present the results in a way to best convey the desired message.
Individual Analysis: As audience members settle with their iPads and iPad 2s, they can log in with their name – allowing the presenter to show individually flagged results. You can generate friendly competition by showing who responds to questions the fastest, or show who has the strongest knowledge base on your team.
Seamless Reporting: Presenters can take the data gathered by the polls and export it into an Excel Spreadsheet. Analyze trends by topic or user – and get the stats instantly.
Massive Resources, Unbeatable Pricing: Only from Vernon Computer Source.
Rent iPad Powered by Audience Response Technology for Your Next Event
Our iPad + ARS bundle is available to organizations for an unbeatable price. Contact us to find out how we can improve your next event with audience interaction – our pricing is unmatched by anyone in the industry.
With distribution centers across the country and rental partners spanning the globe, we have an expansive iPad rental fleet. Call us at 800-827-0352 or fill out a FlexQuote to learn how you can take advantage of this incredible technology.