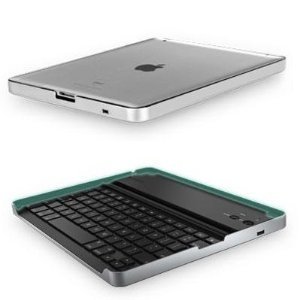 Perhaps one of the most practical additions to an iPad rental is the Bluteooth keyboard. If you plan to take extensive notes or write lengthy emails or reports, you don't have to use a laptop. This lightweight keyboard that also doubles as a external security case when not in use adds only 1/8 of an inch to the tablet, and is made from military grade, high-density padding to protect the iPad from drops.
They keyboard features island-style keys for the comfortable of user, providing ample typing room.  It further features keys for music control, volume control, slideshow, home, search and more.
Benefits of adding a Bluetooth Keyboard
Durable Protection – Fits over the tablet adding little bulk with aircraft-grade aluminum and military-grade padding
Added Functionality – Comfortable design for tasks requiring lengthy typing
Stylish Design – the aluminum exterior has an anodized finish to match the new iPad
Rent iPads with Bluetooth Keyboards from Vernon Computer Source
In addition to providing competitive rates for the rental of iPads of all three generations, we also provide many extensions through accessories and software that enhance the performance of the hardware. Whether it's for an event or a classroom, just let us know what you need to make you sessions a success.
To learn more about renting iPads for your business, simply fill out a quote form and a representative will provide you with a no-obligation quote within the hour. You can also call 800-827-0352 to speak with an associate now.