The HP LD4200tm 42-inch Widescreen LCD Interactive Display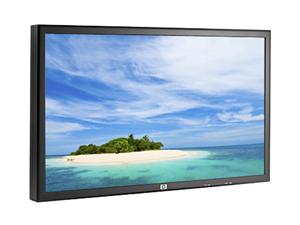 Are you seeking a business monitor with an interactive touch screen interface? Consider renting the HP LD4200tm 42-inch Widescreen LCD Interactive Display for you digital signage needs. This monitor will help make your organization's marketing efforts memorable, and effective. HP prides itself on creating business monitors that provide a stunning, high-impact display that also allows for audience interaction with its touch screen.
The LD4200tm comes from a line of HP products specifically designed for commercial use, made with high quality backlights, advanced electronic technology and robust liquid crystals. Think this monitor is the right fit for you needs? Take a look at the specs below, then contact us to see how we can help.
A Glance at the Specs
Display Type: LCD Touch Screen
Resolution: 1920 x 1080
Contrast ratio (typical): 1000:1
Brightness (typical): 500 cd/m2
Connectivity Ports: VGA; HDMI; component (2); composite (1); S-Video; CGA out for tiling
Weight: 59.4 lbs
Dimensions (W x D x H): 39.3 x 4.7 x 23.3 inches
Rent the HP LD4200tm 42-inch Widescreen LCD Touch Screen from Vernon
When you need AV products like LCD displays with a touch screen interface, you can count on the rental services of Vernon Computer Source to make your event a success. Serving organizations for events throughout North America, our dedicated representatives will assess your needs and find the appropriate hardware to meet you technological needs and your budget.
To learn more about renting LCD displays like this one, just fill out a quote form to have one of our team members provide you with a no-obligation quote within the hour. You can also call 800-827-0352 to speak with an associate now.