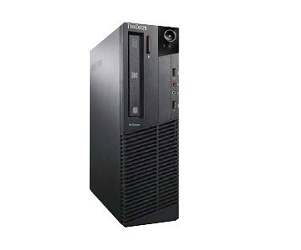 For a standard business desktop with solid performance, consider the Lenovo ThinkCentre M91p as your next desktop rental for business.
This model constitutes the small form factor with a slim, black chassis with no frills. It runs on Intel's second-generation processor (Intel Core i5-2400), and features plenty of USB ports (eight total, 6 in the back, two in the front).
The ThinkCentre M91p has performed well among industry reviewers as a well-built machine for basic business tasks and streaming video.
A Glance at the ThinkCentre M91p Specs
Processor: Intel Core i5, 3.10 GHz, 6 MB Cache
Memory: 2GBx1 PC3-10600 DDR3 UDIMM
Storage: HDD, 250 GB, 7200 RPM
Connectivity Ports: DisplayPort; Video – 15 pin High-Density D-Shell (VGA); 6 Back USB 2 Ports; 2 Front USB 2 Ports
Operating System: Microsoft Windows 7 Professional
Rent the Lenovo ThinkCentre M91p from Vernon Computer Source
This desktop rental is one of many Lenovo computers available from the rental fleet of Vernon Computer Source. We fulfill the temporary, short-term technology needs of companies all over North-America, and thanks to our international affiliates, around the world. We carry models from the industry's leading manufacturers, like Lenovo.
To learn more about renting computers like the Lenovo ThinkCentre M01p, fill out a quote request to have a dedicated representative provide you with further information within the hour, or call 800-827-0352.