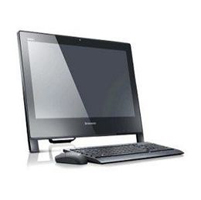 If a business-oriented desktop PC with the slick design of an all-in-one fits your upcoming short term need, the Lenovo ThinkCentre Edge 91z 7075 may be just what you seek. If graphics or heavy multimedia capability is a must – we have a few other models that may be more ideal. This is a fast midrange fit to perform your day-to-day business operations with great efficiency.
The no-nonsense exterior of the desktop provides what CNET reviewers call an "uncommonly attractive design and offers respectable performance for a business-oriented all-in-one." Want to try it for yourself? Ask about our Lenovo lineup in our rental inventory.
A Glance at Lenovo ThinkCentre Edge 91z 7075 Specifications
Form Factor: All-in-One
Dimensions (W x D x H): 21.5 x 3.2 x 16.3 inches
Weight: 18.5 lbs
Processor: Dual-Core; 2nd Gen Core i3, Intel i3-2100 /3.1 GHz
Hard Drive: 1 x 320 GB – Standard – Serial ATA-600 – 7200 rpm
Monitor type: 21.5-inch LCD display
Max Resolution: 1920 x 1080 (Full HD)
Image Contrast Ratio: 1000:1
Rent the Lenovo ThinkCentre Edge 91z 7075 from Vernon Computer Source
Carrying desktop rental options from the industry's top manufacturers, like Lenovo, Vernon Computer Source provides businesses of all sizes with the required IT equipment for short-term needs. Our personally configured options will ensure your training segment, on-site project or trade show is met with success.
To learn more about renting computers from Vernon, just fill out a quote form to have a representative contact you within the hour, or call 800-827-0352 to speak with someone now.