Rent Our Lenovo ThinkCentre M58p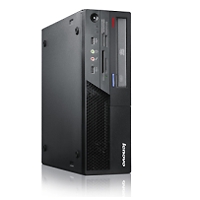 When our customers rent a desktop in today's market, they have certain expectations about the performance they expect to receive. With so much competition out there, a popular model needs to deliver manageability, security, reliability and energy efficiency.
We are pleased to say that the Lenovo ThinkCentre M58p is a small form factor desktop solution that touches on each and every one of those areas, delivering the performance necessary to stay competitive in the world.
And the M58p isn't only a great business solution – it's also good for the environment. It comes with some pretty glowing certifications from ENERGY STAR 4.0, GREENGUARD and EPEAT.
ThinkCentre M58 Specifications
Intel Core 2 or 2 quad processors
Lenovo ThinkVantage power manager and vPro tech
ENERGY STAR 4.0 certified
GREENGUARD friendly
EPEAT Gold certification
Small form factor
DDR 3 Memory
Solid state drives (optional)
Blu-ray included (optional)
Lenovo ThinkCentre M58P Computer Rental
With over $40 million in rental equipment, a product really needs to be worthwhile to stand out. And we believe that the Lenovo M58p computer rental offerings that we have in stock fit that bill.
With earth-friendly design and business-class performance, these desktops deliver the performance and manageability so many of our corporate consumers require.
To rent these computers today, feel free to fill out one of our hassle-free FlexQuotes. We'll get back to you within the hour with the best possible pricing – and we deliver internationally.