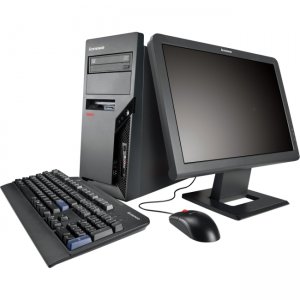 Are you looking for a budget desktop system to meet your short-term computing needs? Among our desktop PCs available to rent is the Lenovo ThinkCentre M57e Tower, an option you may find meets these needs.
This option is the ideal choice for users with a preference for a Tower form factor with numerous connectivity ports and expansion slots. An enterprise-friendly desktop computer rental for business, Lenovo built this model to satisfy the demands of IT managers with its performance and security features.
A Glance at the ThinkCentre M57e Specs
Dimensions (W x D x H): 6.9 x 17.3 x 15.8 inches
Weight: 24.3 lbs.
Processor: Core 2 Duo Intel Pentium 2.33G
RAM: 1GB
Memory: L2 cache, 1.0 MB
Rent the Lenovo ThinkCentre M57e Tower from Vernon Computer Source
As a part of the largest IT and AV rental organization in the world, Vernon Computer Source serves organizations both small and large throughout North America while its international affiliates extend the services into Europe and Asia. Training sessions, classrooms, trade shows, and sporting events across the globe have used these rental services to meet their short-term technology needs.
Our warehouses are stocked with desktop computer rental options with tiered specs from the industry's leading manufacturers. To learn more about these services, simply fill out a quote request and we'll provide the information you seek within the hour.