The Lenovo ThinkCentre A70z All in One Desktop Rental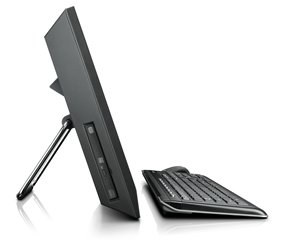 With business users in mind, Lenovo designed its ThinkCentre A70z All-in-One Desktop for those looking to save space, energy and money.
Combining the functionality of a traditional desktop with a slick monitor that eliminates the need for cable-clutter, the A70z All in One desktop rental for business will allow users to reclaim up to 70 percent of their desk—making it an ideal solution to maintain efficiency in a cramped work space.
This entry-level all-in-one desktop will allow small businesses to save money by decreasing energy consumption through its eco-friendly, ENERGY STAR 5.0 compliant features including its 19-inch wide LCD screen and Lenovo Power Manger.
The ThinkCentre A70z All-in-One Specifications
Processor: Intel Core 2 Duo, Pentium Dual-core, Celeron Dual-core
Operating System:  Recommended; Windows 7
Memory: 4GB maximum, 2 DIMM slots
Ports: Six USB, serial
Display: 19" wide LCD, 16:10 ratio,62-mm thick
Webcam: 1.3 MP and integrated microphone
Rent the Lenovo ThinkCentre A70z All-in-One from Vernon Computer Source
Whether it is an all-in-one or a full-size, traditional desktop rental your organization seeks for a temporary need, Vernon Computer Source carries multiple models from the industry's top manufacturers, like Lenovo.  With distribution centers throughout the country, Vernon serves companies nation-wide and with its international affiliates, is able to provide short-term technology solutions to organizations around the world.
To learn more about these IT rental services, call 800-827-0352 or fill out a quote and a member of the Vernon team will contact you within the hour with the information you require.