Rent a Core 2 Duo-Powered HP DC7700 Desktop Computer for Your Business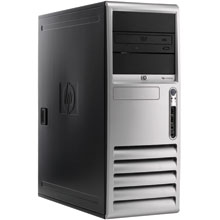 The DC7700 is corporate class workhorse that delivers power and productivity right along stability.
These towers are designed for lengthy deployment within official infrastructures, and are geared at medium- and large-sized organizations.
When designing these products, HP had environmental friendliness in mind, and the DC7700 features lengthy lifecycles, image stability, upgradability and a level of energy efficiency not always seen in this class of
With a Core 2 Duo processor behind it, the DC7700 makes for a great option – just remember to ask for an accompanying monitor (it's just a tower — albeit a sturdy one).
HP DC7700 Desktop Computer Rental Specifications
Core 2 Duo
Comes standard with 1 GB RAM and 80 GB hard disk (may vary)
A full-height PCI slot on most models
Rear I/O and USB Ports
Built-in thermal and power management thanks to HP BIOS.
Rent a HP DC7700 Desktop Computer From Vernon Computer Source
Whether our business customers are in need of the latest and greatest tablets or staples like the HP DC7700, we live to serve.
With an expansive desktop computer rental inventory and a global delivery presence, we offer great customer service, next-day shipping and other amenities that give us strength in the face of competition.