Rent the HP Compaq dc7900 Business PC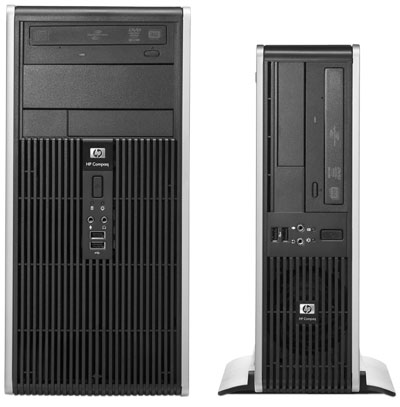 If your business can use energy efficient technology and remote manageability, we have a computer rental suited to fit your needs. The HP Compaq dc7900 Business PC can be configured to your specific needs, whether you require graphics capabilities or a specific Intel processor.
Described by one review as a "powerhouse machine," the dc7900 is available operating on Microsoft Windows XP or Windows Vista. Depending on your business' specific needs, this computer comes in three forms: SFF Small Form Factor, CMT Convertible Minitower and USDT Ultra-slim Desktop.
HP's Compaq dc7900 is an enterprise-grade model capable of crunching massive amounts of data without dominating your desk space.
HP Compaq dc7900 Business PC Specifications
Processors: Intel Celeron, Celeron Dual-Core; Intel Pentium Dual-core; Intel Core 2 Duo; Intel Core 2 Quad
Memory: DDR2 SYNCH DRAM NON-ECC; 8 or 16 GB using SO-DIMM or DIMM modules
Diskette Drive: 1.44 MB
Wireless: HP 802.11 b/g/n PCIex1 Wireless card; HP 802.11n Mini-PCI Wireless adapter
Modem: Agere 2006 PCI 56K International SoftModem
The HP Compaq dc7900 Computer Rental from Vernon Computer Source
Vernon Computer Source has comprehensive computer rental  services, carrying top-line manufacturers in its inventory, like HP, Dell and Apple. Renting from Vernon Compter Source means custom-configured models to suit the needs of your business, whether enterprise or SMB.
To learn more about renting a computer like the HP Compaq dc7900 Business PC, call Vernon at 1-800-827-0352 or fill out a FlexQuote and one of our sales representatives will contact you shortly.