Rent the Dell Precision T7400 Tower Workstation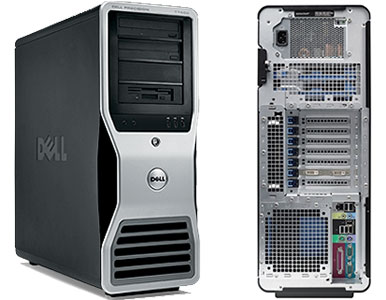 Organizations looking for a power-horse desktop need look no further than the Dell Precision T7400 Tower Workstation, a model the company says will maximize performance and scalability. Powered by Intel 64-bit multicore Xeon processors, advanced memory, graphics and RAID features—feel free to throw the most complex applications without worry of its capability.
Expect maximum productivity from the performance of the T7400, with up to 1600MHz front side busses of power. This workstation is designed to scale according to your workload, and with a 12.8 GB bandwidth path for data between processors, memory and chipset.
T7400 Workstation Tower Specifications
Processor: Intel Xeon 64-bit quad core
Memory Scalability: 128 GB
Storage Capacity: 5.0 TB
Hard Drives: Up to five Serial ATA (SATA)
Cache: 12 MB
Rent the Dell Precision T7400 Tower Workstation from Vernon Computer Source
The computer rental options from Vernon Computer Source carry the industry's top brands like Dell, HP, Lenovo and Apple. With distribution centers location throughout the country, and affiliates around the world, Vernon is suited to cater the needs of your company—wherever you are.
To learn more about our services, give us a call at 1-800-827-0352 or fill out a FlexQuote and one of our sales representatives will contact you shortly.