Rent a Dell Optiplex GX620 Computer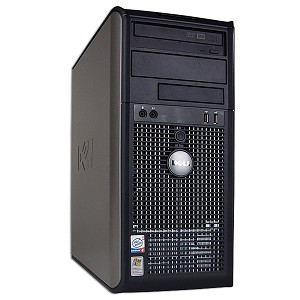 For the enterprise customer in need of a well-performing, stable and flexible workplace solution, the Optiplex GX620 from Dell makes a whole lot of sense.
This reliable, conservative design comes in a variety of classic chassis and casing options. For short or long-term deployments, this tower has most functions built into the mother board (graphics, sound, Ethernet, I/O ports, etc.)
For performance matched by a price that makes sense in bulk, the Optiplex GX620 makes for a viable option.

Our Dell Optiplex GX620 Computer Rental Specifications
A minimum of 40GB harddrive and an 800 MHz processor.
4 DIMM slots and an integrated Intel graphics media accelerator.
Several front-facing USB ports mean ease of access
Proprietary thermal management technology equates to less heat and less energy, which can be ideal for certain off-site applications.
Compatibility for several monitor types.
Rent a Dell Optiplex GX620 Computer from Vernon Computer Source
Here at Vernon Computer Source, we stock over $45 million in computer rentals, including top-of-the-line entries from HP, Lenovo, Dell, IBM, Apple and more. No matter what configuration or specification our clients might request, it's guaranteed that we probably have an appropriate solution in stock.
The Dell Optiplex GX620 is the perfect computer for medium-sized businesses in need of additional support for training sessions, corporate seminars, or temporary, off-site projects.
To take advantage of any of our international locations in London, Toronto, Raleigh, Atlanta, Tokyo, Sydney, Paisley, Stamford, Seattle, or Frankfurt, just fill out a hassle-free FlexQuote.
We'd be happy to help!