Your Next Computer Rental: The Dell Optiplex GX520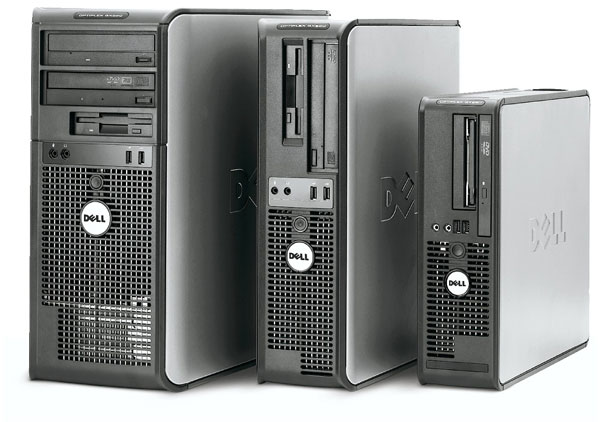 Our enterprise customers need fast, efficient hardware with optimal functionality—and we bring them just that through our computer rentals like the Dell Optiplex GX520. Dell designed this computer with high performance, stability and flexibility for your workplace in mind.
The GX520 functions with the high performance power of Intel Pentium D Dual Core processors, while operating with thermal efficiency thanks to Dell's BTX chassis, power supply and motherboards. The Small Form Factor chassis is dually available for tighter working areas, with USB ports located on the front of the system for side-by-side installation of accompanying devices.
Specs for Dell Optiplex GX520
Processor: Intel Pentium D with Dual Core architecture
Operating System: Windows XP, Windows 7, Windows XP Professional
Hard Drive: 40GB; 80GB; 160GB
Dimensions: Small Form Factor 12.4 x 3.6 x 13.4 inches; Desktop 15.6 x 4.5 x 13.7 inches; Mini-Tower 16.2 x 7.3 x 17 inches
Power Supply: Small Form Factor 220W; Desktop 220W; Mini-Tower 230W
Environmental Compliance: Among others, Green PC and Energy Star compliant
Rent the Dell Optiplex GX520 from Vernon Computer Source
Vernon Computer Source carries computer rental options from top-of-the-line manufacturers like Dell, HP, Lenovo and Apple. With distribution centers spread throughout the country and international affiliates all over the world, organizations of various sizes and locations can benefit from the custom configured services from Vernon.
To learn more about our offerings, give us a call at 1-800-827-0352 or fill out a FlexQuote and one of our sales representatives will contact you shortly.