Add a Charge and Sync Cart to your iPad Rental (DS-Mini-IPCS-32)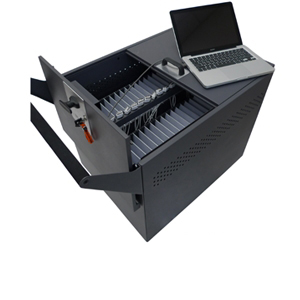 When you rent multiple tablets for a multi-day event or classroom setting, you can benefit from the convenience of the DS-Mini-IPCS-32 charge and sync cart when added to your iPad rental.
The DS-Mini-IPCS-32 from Datamation Systems is a compact, mobile cart that can charge and sync up to 32 iPads (any generation) in addition to a MacBook. Sync all 32 iPads at the same time using iTunes on the Mac through two USB hubs using Cambrionix technology.
The cabinet further provides security for storage overnight, protecting the iPads with  a secure locking mechanism while the tablets charge.
Features of the Cart
Cabinet Dimensions (W x D x H): 22.5 x 23.2 x 30 inches
Module Dimensions (W x D x H): 1.1 x 8.6 x 11 inches
Weight: 130 lbs.
Retractable Security Doors
Drill resistant, pick proof two point locking system
USB Hubs for Charging or Syncing: 2
Power Supply: 225W, 45A, 5V, 115/230 VAC
Built-in Fans
Rent a Charge and Sync Cart from Vernon Computer Source
Together with its international affiliates, Vernon Compute Source has the largest IT rental fleet in the world. The iPad rental services encompass not only the hardware, but also includes multiple peripherals like this charge and sync cart to accompany the tablets. Our team is dedicated to making your organization's event a success.
To learn more about our rental offerings, simply fill out a quote form and an associate will respond within the hour.  You can also call 800-827-0352 to speak with someone now.