Bretford PowerRack Charging Station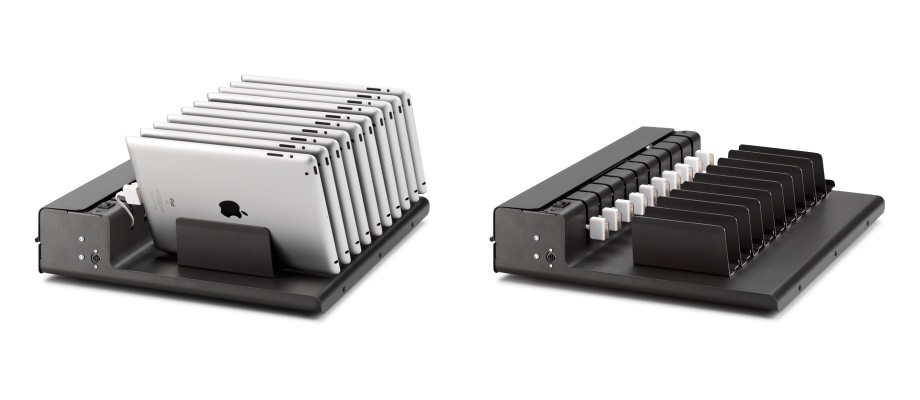 When you rent multiple iPads for your business, class, or organization, the last thing you need is to worry about how to keep your devices charged. Charge and sync stations like the Bretford PowerRack are a handy, affordable, and reliable addition to any iPad rental.
Unlike older model charge and sync stations, the Bretford Power Rack's slim, all-steel design makes it a discrete appendage to any trade show table, an office desk, or even a shelf! Weighing just 14 pounds, the PowerRack can be conveniently stored or set up at a moment's notice.
Bretford PowerRack specifications
Holds up to 10 iOS devices per rack: Supports all iPad, iPhone, and iPod touch models, and provides full-rate charging to every device.
Ships fully assembled: All you need to do it plug it in and the PowerRack is ready to use!
Power source: AC power adapter and power cord.
Weight: 14 lb./6.3 kg
Dimensions: 14.75 in x 17.75 in x 3.75 in
Organization: Individual dividers keep devices separate and allow an unobstructed view of the first device in the rack while all devices are being charged.
Safety: The PowerRack is Safety Certified to UL standard 60950, making it safe to use by everyone on your team.
A simple solution to charging all of your iOS devices, adding the PowerRack to your iPad rental lets you take your mind off keeping your devices charged and ready to use. The flexibility of the Bretford PowerRack makes it the perfect addition to any work setting, and helps keep your team up and running during busy events.
Add a PowerRack to your iPad rental
Want to add a Bretford PowerRack to your rental? We can help! Fill out a free FlexQuote form and get the information you need within an hour, or call 1-800-827-0352 to speak to one of our expert representatives immediately.