Rent a 27-inch Apple LED Cinema Display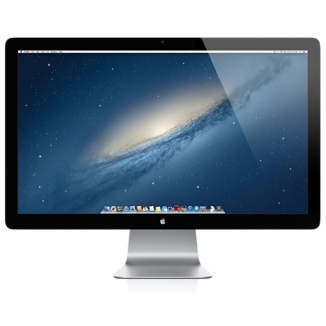 If you have an upcoming event or meeting where you'd like to display a presentation from a MacBook laptop, the 27-inch Apple LED Cinema Display is the perfect match.  Its LED backlighting provides instant-on brightness at a 178-degree viewing angle, and it perfectly complements your Apple notebook. The best part – you can rent this technology whenever you need it.
Why is this monitor such an ideal companion to you MacBook? To start, the display features a MagSafe connector that charges your notebook, and the Mini DisplayPort cable (which also comes with the rental should you ask) allows for easy connectivity in addition to its three USB 2.0 ports.
Other features include a build-in iSight camera, microphone, and 49-watt speaker system.
A Glance at the Specs
Diagonal Display Size: 27-inches
Screen Type: TFT active-matrix LCD with in-plane switching (IPS)
Resolution: 2560 x 1440 pixels
Colors: 16.7million
Aspect Ratio: 16:9
Contrast Ratio: 1000:1
Dimensions with stand (HxWxD) : 19.35 x 25.7 x 8.15 inches
Weight: 23.5 pounds
Rent the 27-inch Apple LED Flat Panel from Vernon Computer Source
Vernon Computer Source carries flat panel monitors rentals made by the industry's leading manufacturers like Apple, LG, Samsung, Sony and many more. Serving locations throughout North America, its rental services are further carried out into Europe and Asia by its international affiliates. Together, they comprise the largest IT and AV rental group in the world.
To learn more about monitor display rental, just request a quote to get the information you need within the hour. You can also call 800-827-0352.