Rent a TurningPoint Audience Response Voting System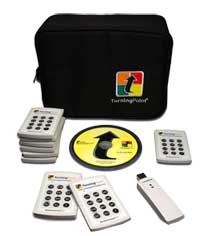 Want to grab your event attendees' attention and keep it? The best method is always interaction, and TurningPoint's Audience Response Voting System is the perfect way to engage current and potential clients at your business exhibition.
This system allows you to collect the feedback of hundreds, thousands or even tens of thousands of participants. The speaker at your meeting or event can directly interact with audience members making for an engaged, involved crowd who will retain the message you present to them. You can further gather feedback of your event without the hassle and waste of paper surveys.
TurningPoint Audience Response Voting System Specifications
Instant and accurate polling results
Simple to use as reports/polls are generated in Powerpoint
Vote from a handset or download a software to convert your mobile phone or laptop
Rent a TurningPoint Audience Response Voting System from Vernon Computer Source
Can you next meeting or business conference use a little extra pizazz? Consider renting a TurningPoint Audience Response Voting System to increase effectiveness in engaging audience members and presenting informative information or memorable branding for your marketing efforts.
Vernon Computer Source has an expansive rental fleet and is ready to supply your company with whatever needs you may require for your next meeting, conference, training seminar or other event. To learn more give us a call at 1-800-827-0352 or fill out a FlexQuote.