Get Audience Response Software (ARS) on an iPad Rental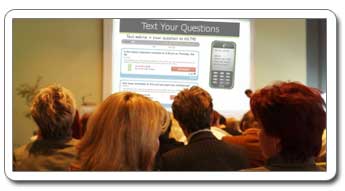 Audience response systems are one of the many ways in which a conference planner gauges attendee interest and interaction. Traditionally conducted with electronic "clickers," audience response methods have often been relied upon to provide poll and survey results.
Usually, a conference organizer will ask the audience a question and ask them to choose the response on the clicker.
For companies who want to exude a composed, technically-ept image, this sort of dated method can reflect bad on the brand. And that's where our iPad rentals come in.
Audience Response Software on an iPad Rental
It's possible to get audience response software (ARS) on an iPad rental – and it'si as simple as an application. While the technology is still new, its definitely available – and Vernon is proud to be the only IT rental company in the world currently offering it.
All a customer needs to do is ask – and we'll install the audience response app of their choice on to any of our tablets – including the Apple iPad.
Presently, Vernon works with several ARS vendors, and as such, it has some of the most competitive and flexible options in the industry.
Rent Bulk iPads With Pre-Loaded Audience Response Apps Uploaded
Vernon Computer Source goes above and beyond when it comes to catering to its corporate clientele. If a customer wants 900 iPads synced with the same application, the company ensures that it happens as expected.
And no matter what the app may be – from Angry Birds to audience response software, Vernon can accommodate nearly any customer request.