Rent a Toshiba Thrive and Get Portable Practicality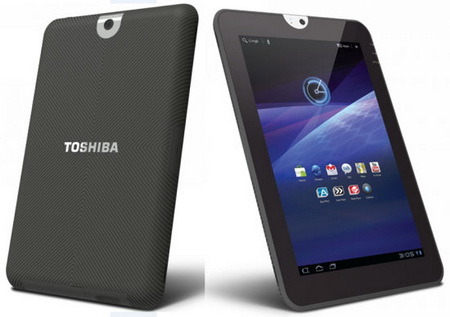 We offer a medley of tablet rental products here at Vernon, and to date, none of them have ever been labeled a beast. All that's about to change, thanks to a witty product review in TIME's TECHLAND vertical.
The Toshiba Thrive is referred to in rather unpleasant terms – as it doesn't have much to recommend it that its fellow tablet brethren don't already have. Android Honeycomb 3.1 – check. NVIDIA Tegra 2 – check.
This tablet's saving grace is its full-sized ports. Those options – SD, mini-USB, USB 2.0 and HDMI, all make for fairly integral assets when considering this tablet for adaption in the enterprise world.
Connectivity is this tablet's main feature, and one we look forward to offering to our corporate clients.
It's still relatively sleek and slender… but it's also practical.

Our Toshiba Thrive Rental Specifications
10.1″ LED-backlit display
NVIDIA Tegra 2
Adobe Flash
Android 3.1 Honeycomb
Full-sized SD, mini-USB, USB 2.0 and HDMI ports
Stereo Speakers
Dual Cameras
Rent a Toshiba Thrive from Vernon Computer Source
We don't discriminate – we rent all kind of tablets, here at Vernon. From the Apple iPad to the Samsung Galaxy Tab; from the Motorola Xoom to the HP TouchPad – we stock it all.
Shipping out of international warehouses located in Sydney, Paisley, Toronto, London, Frankfurt Tokyo, Raleigh, Atlanta, Seattle and Stamford, we aim to get the products shipped to our clients for a price that makes sense – and in a condition worthy of business usage.