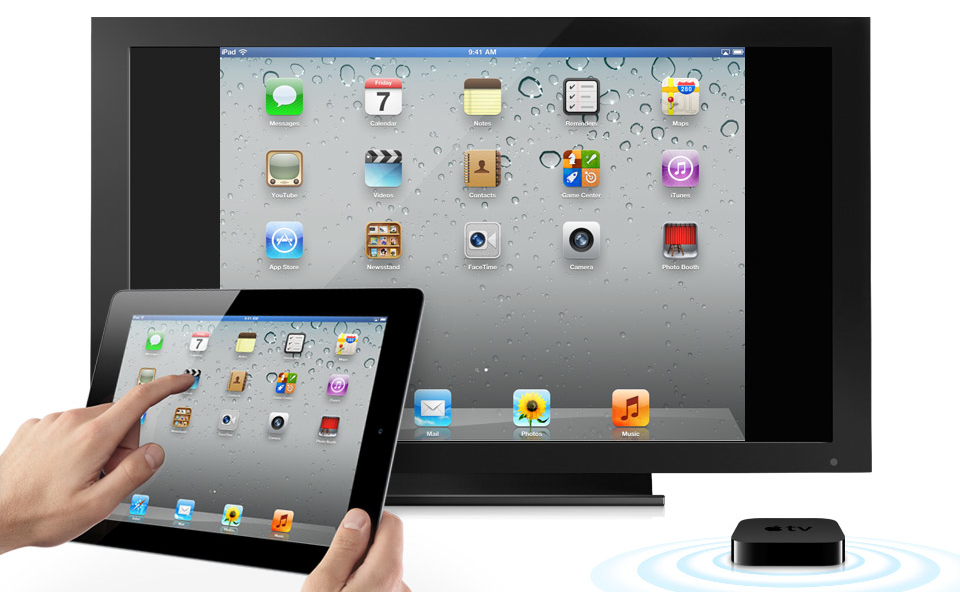 The latest from the Mac rumor mill is one that we hope to see expand in the near future.
The latest developments, that began not from official sources as these things usually don't (but often times are eerily accurate), is evolved from the current technology available on the market, and through the plasma/LCD flat panel and iPad rental services at Vernon. 
Mirroring via an HDMI adapter has been a popular offering of ours for corporate meetings and other business ventures where a presentation or other multimedia can be broadcasted on a much larger screen while the controls remain on the main device – the ever portable iPad 2.
However, what is to come shall take this technology one step further using an AirPlay Mirroring application, which will sync up the tablet with the Apple TV, but is only available with its latest operating system.
As Mac-centric blog 9to5mac.com wrote, "This would be a fantastic addition to the conference room for corporate presentations and would sell a few more Apple TVs we would imagine."
We tend to agree with this assessment.  And Apple has made the technology available through its latest iOS 5.
While it has not been confirmed whether this AirPlay Mirroring app will be available anytime soon with displays other than its own Apple TV, it's hard to imagine that it is not something that is actually in development at present time.  With AirPrinters that sync with the tablets, it doesn't seem so unrealistic to expect a mirroring functionality to exist between the iPad and another TV that is capable of offering the proper platform, much like HP was able to with its printers.
We'll keep our eye out for this upcoming technology should it expand to displays other than Apple's own TV, and if/when it becomes available, you can count on our services.  We strive to adjust to the rapidly developing tech industry, providing products to corporations and organizations of all kinds, around the world with short term technology needs. 
Whether it's a fleet of LCD displays, or bulk iPad rentals you seek for an event or training session, we have the hardware, specifically configured for your requirements.  We even have 3G activation available. Contact us to learn more.