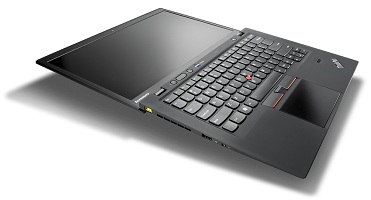 If you're a Lenovo enthusiast or an Ultrabook fan, you've likely heard all the buzz of the company's flagship laptop in its latest lineup: the ThinkPad X1 Carbon Ultrabook.
According to Lenovo, the X1 Carbon is the lightest 14-inch Ultrabook in the world weighing just three pounds. What's more, the laptop still features a carbon-fiber roll cage, similarly seen on other ThinkPads, which allows to laptop to be both light and durable.
The first X1 laptop, brought out by Lenovo to compete with Apple's MacBook Air and Samsung's Series 9, didn't satisfy as many of the industry critics as a true alternative. The X1 Carbon, however, has a much thinner, although similar design – making it a closer business-friendly alternative to the competition.
The laptop will have plenty of speed running on Intel's third-generation Core i-series processors, also featuring familiar Lenovo favorites like Intel vPro support and rapid-charge battery that charges to 80 percent in 30 minutes.
One standout feature of the X1 Carbon is its inclusion of mobile broadband, not commonly seen in other Ultrabooks, as well as a higher resolution of 1,600 x 900 pixels.
The Lenovo ThinkPad X1 Carbon is expected to be released sometime this summer. We're looking forward to its release, and making it available for short-term use to all of you renters out there in the business world.
In the meantime, contact us about renting Lenovo products already available, like a ThinkPad such as the T510. We can also supply you with further information for any other laptop rental need you may have using the quote form to the right.