Apple iPad Rental for Business & Events
Why choose Vernon to rent iPads?
Unmatched prices (just ask how we can beat a competitor's rate).

10% product back-up provided with every rental.

Over 30 years of experience serving professionals with technology rentals.

Rent iPads for events, offices, mobile or stationary use. iPads offer the versatility that professionals need to connect with their client base, build their image, and organize functions.
Our iPad rentals include all current models of the device, and we have the newest generations available as they are released. iPads from Vernon Computer Source are available in the following configurations:
Wi–Fi 16GB Tablet PC
Wi-Fi  32GB Tablet PC
Wi–Fi 64GB Tablet PC
3G/4G models also available
More than just a media player, the iPad is an all-in-one tablet that can seamlessly carry you from the office, to home, to an event. With Apple's easy to use operating system and multi-touch functionality, the iPad is a cinch to navigate whether you're using it for business or personal time.
iPad rentals for your business
The practical uses for iPads in a business setting are endless. Beyond 100,000+ applications designed with professionals in mind, the iPad provides you and your team with word processing, video streaming, e-mail access and then some.

Audience Response Software– Let the audience interact with your keynote speaker through surveys and live polling set to sync with a PowerPoint presentation.
Apps–  Choose any app to have loaded onto your devices. Many opt for Apple's premier word-processing suite, iWork. The Pages application allows you to create all kinds of documents, from reports, to letters, to brochures. The Numbers spreadsheet application makes it easy to incorporate multiple tables and graphs into financial and other statistical reports.
Security Add-Ons – With kiosk stands and clear security "lock boxes," you can display iPad rentals at your trade show booth without worrying about theft, or the possibility of dings and scratches
Wifi or Data Plan– browse the web in high speed and load image-heavy sites with ease, using your choice of WiFi only or a data plan for 3G/4G LTE devices.
Preconfigured and ready to use – when you rent iPads from Vernon, your tablets will come with your apps, charged and ready to use.
Rent an iPad and Other Tablets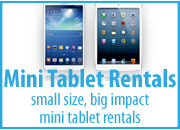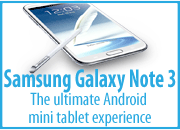 Making hefty investments in any computer hardware can be stressful, and it's hard to know whether the device is right for your company until you try it. At Vernon Computer Source we believe in testing before you invest! If you rent iPads from us and love them so much you'd like to own them, you can buy them – no hassle, we're flexible.
Our free FlexQuote system helps you find out what we can do for you! Simply fill out and submit the form, or contact Vernon directly by phone at 1-800-827-0352.